These are your beginner guns for the player getting into paintball. If you have any questions feel free to call us and we can show you a demo or order it for you.
Phone# 1-319-833-0259
Email KWPaintball@yahoo.com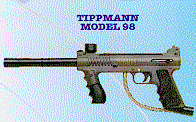 Model 98
One of the best guns out there for the price, quiet, easy to clean, and affordable. KWPaintball's best pick for someone interested in getting there own marker.
Price-$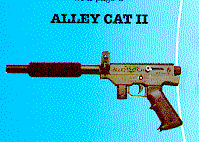 Alley Cat II
A great beginner gun for the intro. player.
Price-$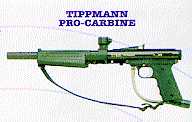 Tippmann Pro-Carbine
Another great gun made by tippmann, a little more complex but more accurate and upgrade possibilities.
Price-$
Diamond GT
A copy of the Brass Eagle Raptor but a little quieter and upgrade possibilities.
Price-$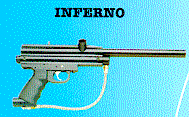 Inferno
Another gun that is a great gun for the starter.
Price-$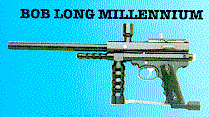 Bob Long Millennium
A great gun with a lot of upgrade possibilities to make this gun a monster to other guns.
Price-$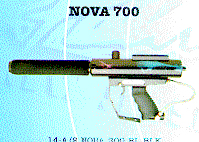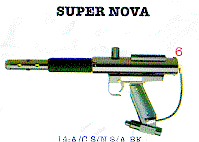 Nova
A low pressure gun to allow more shots out of your tank, offers great accuracy and quietness from the low pressure chamber.
Price-$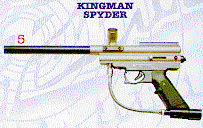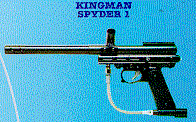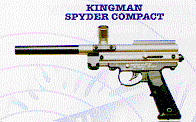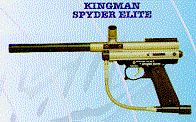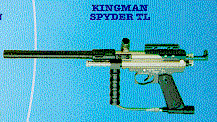 Spyder offers a wide range of paintball markers to fit your needs. From basic to the tournament quality marker for the more experience player.
Price-$
Price-$
Price-$
Price-$
Price-$
Price-$
ANY OTHER QUESTIONS OR MARKER THAT YOU DON'T SEE. FEEL FREE TO CONTACT US, I'M SURE WE CAN GET ANY MARKER THAT YOU WISH TO ORDER.